The PET food box machine, also named plastic thermoforming machine, is suitable to various materials sheets, such as PET, BOPS, HIPS, PP, PLA, PVC, and barrier material, and to produce many products: trays, lids, fruits and vegetable boxes, flower pots, clamshells, nursery trays and plates.  PET thermoforming machine can make some products that are unable to be made in single station pet thermoforming machine, for example, PLA products, plastic lids or containers which have holes, the packing containers (fruit box, egg trays) with body and cover connected, etc.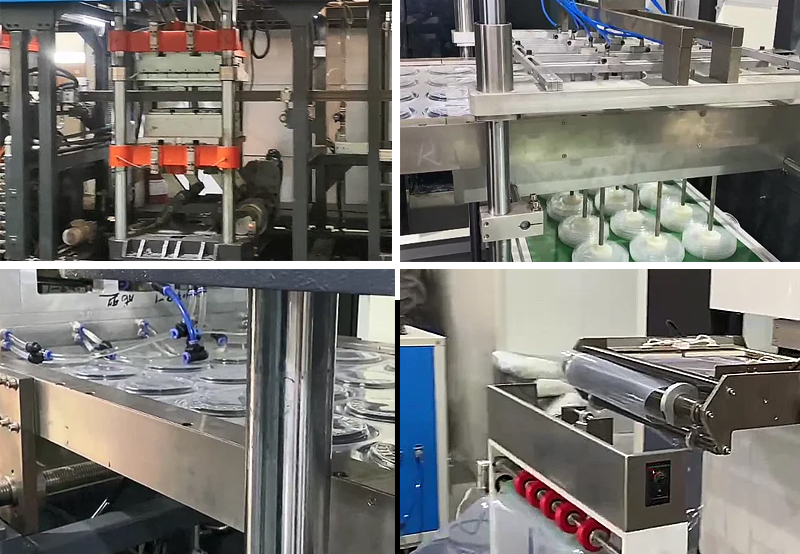 The complete plastic thermoforming machine includes PET plate extrusion machine and PET thermoforming machine
PET Food Container Machine Parameter:
ITEM

DY520

DY-600

DY-7060

Suitable Products

Disposable Plastic lids/covers, clamshell boxes, plates, (egg) trays , containers, etc.

Suitable Material

PLA, PP, PS, PET, PVC, EPS,CORN STARCH etc

Max. Width of Material

540mm

640mm

360-720mm

Max. Forming Width

520mm

600mm

700mm

Max. Forming Length

320mm

500mm

600mm

Max. Forming Depth

70mm

100mm

120mm

Max. Cutting Speed

10-30Cycles/min

10-40 Cycles/min

45Cycles/min
DEYI company, specialized in pet thermoforming machines for more than 30 years, we can supply multi kinds of type for PET food container machines such as DY520, DY600 and DY7060. in order to customers' needs, there is available customized service.
Get Quotation Now: